Entry level campervan, suitable for 2 adults or small family, (ie 2 adults & 1 child not requiring baby or booster seat).
The 2 Berth Trailblazer is a compact full feature campervan with kitchen, toilet, shower with hot & cold water, Large 1.90m Double bed, 110L Fridge and TV/DVD.
The 2 Berth Elite is designed for two people that want lots of room. Fully optioned with kitchen incl microwave, toilet, shower, hot & cold water and huge double bed.
The 4 Berth Voyager is a spacious vehicle that suits a family of 4 or 4 adults looking to travel on a budget. Vehicle includes kitchen, microwave, and 2 double beds but no toilet or shower.
The popular 4 Berth Explorer is fully optioned with kitchen, microwave, shower, toilet, hot & cold water & 2 double beds.
New for 2011 the 4 Berth Navigator offers a unique design to maximise space. Fully optioned makes it a great option for groups of friends or family travelling together.
The 6 Berth Frontier is a well designed and spacious motorhome designed for 6 people. Fully optioned with loads of space.
The new 6 Berth Renegade dual cab is fantastic for families with young children as they are close to the adults when travelling and there is no need to remove the car seats when you make up the beds at night.
Ph:1300 305 505
within Australia
Ph: 0800 305 505
within New Zealand
---
Campervan Pricing
Visit New Zealand*
*Pricing is based a number of factors including duration, demand, time of year and how far out you book. We request that you contact us to receive the best available price. - Thank you

---
Depot Locations (click on map)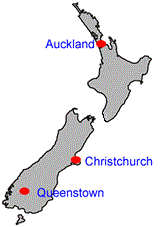 ---
Price & Availability
For confirmation of terms and conditions and to confirm availability
please contact us using any of the following methods;
---