The Ultima is the premier 2 berth campervan in the Market. Suitable for 2 Adults this vehicle includes flexible bedding, shower, toilet, hot & cold pressurised water and reverse cycle air conditioning. Kitchen facilities include a microwave & fridge.
The Spirit 4 is a spacious 4 berth Motorhome. Creative design, clever use of space and quality fittings, means 4 people can travel and live in luxury.
Maui Platinum offers the discerning traveler ultimate comfort and safety. Contemporary design with an apartment feel- warm neutral tones, wooden floors, real leather couches, reading spotlights and roomy living areas.
The Maui Platinum 5 delivers on all the essentials of style, comfort and clever, innovative design. With two comfortable double beds and one king single bed, the Platinum 5 is more like an apartment on wheels than a motorhome thanks to its contemporary and sophisticated design featuring rich, earthy neutral tones highlighted with stunning turquoise accents.
State of the art motorhome, designed for you and the kids. With two living areas, DVD player, awning, coupled with a modern interior with leather upholstery.
Maui Platinum 6 caters for up to six people – it is also perfect for a couple who desire extra space and style. Spend time watching the sun set whilst enjoying an al fresco meal. At the end of a day reflect on all your new experiences while you drift off to sleep in a spacious bed that feels just like home.
Ph:1300 305 505
within Australia
Ph: 0800 305 505
within New Zealand
---
Pricing: 2011/2012 (Rates are per day)
| Rates per Day | 2 Berth Ultima | 4 Berth Spirit 4 | 4 Berth Beach |
| --- | --- | --- | --- |
| 1 Apr - 30 Apr 11 | $167 | $233 | $236 |
| 1 May - 30 Jun 11 | $144 | $175 | $179 |
| 1 Jul - 30 Sept 11 | $188 | $276 | $285 |
| 1 Oct - 31 Oct 11 | $240 | $312 | $315 |
| 1 Nov - 14 Dec 11 | $217 | $287 | $293 |
| 15 Dec - 14 Jan 12 | $251 | $345 | $349 |
| 15 Jan - 31 Mar 12 | $205 | $259 | $268 |
| Rates per Day | 5 Berth Lake | 6 Berth River | 6 Berth Forest |
| --- | --- | --- | --- |
| 1 Apr - 30 Apr 11 | $238 | $265 | $280 |
| 1 May - 30 Jun 11 | $181 | $198 | $214 |
| 1 Jul - 30 Sept 11 | $287 | $314 | $330 |
| 1 Oct - 31 Oct 11 | $317 | $335 | $351 |
| 1 Nov - 14 Dec 11 | $295 | $303 | $319 |
| 15 Dec - 14 Jan 12 | $351 | $370 | $385 |
| 15 Jan - 31 Mar 12 | $270 | $289 | $305 |
Discounts
| | | |
| --- | --- | --- |
| Days Rental | 21-34 | 34 + |
| Discount | 8% | 15% |
---
Depot Locations (click on map)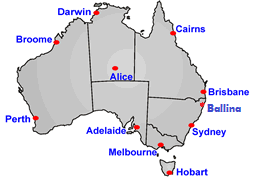 ---
Booking
For confirmation of availability and to make a booking including discussing cost of insurance options and any additional products and services please contact us using any of the following methods;
send us an email at information@self-drive.com or
call 1300 305 505 (within Australia) or 0800 305 505 (within New Zealand) or +61 1300 305 505 (rest of world)
or
For Rental Terms and Conditions Click Here
---